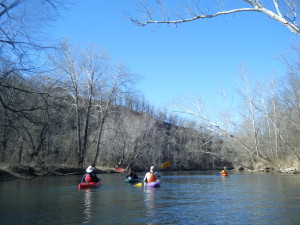 Six OMP members and one guest floated the Niangua River from Bennett Springs to Barclay Springs Sunday Jan 18th. It was a clear sunny day with temps in the mid 60′s, we had 2 new members, Kim Jarrell and Jim Horton taking their first trip with us, and there were 2 new kayaks which made their maiden voyages.
The shuttle for this trip is mostly paved and short – we got on the river by 11am and were off by 3pm. We saw several eagles soaring high above us but not as many as the same stretch last year when the eagles were perched close to the river giving us a better view.
Typically, the Niangua is packed with canoes, kayaks, and most of all rafts on weekends during the summer months, but we had the river all to ourselves for this float.
Trip report by Marty Zerr.
Again, we are sorry for the short notice for this float – don't forget aout the next upcoming February float on the Feb 7th scheduled for the Buffalo River!
{ 0 comments }