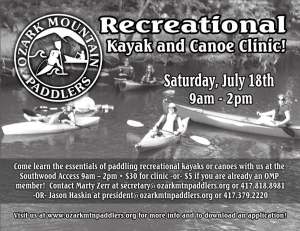 If you want to learn the basics of canoeing or kayaking: strokes, boat control, safety and trip planning, then this is the clinic for you! This class is geared toward the beginner who wants to learn how to have a fun, safe day on the river. It is also great for the beginner who would like to work up to taking our Spring Whitewater Clinic.
The clinic is taking place on July 18th at the Southwood Access on Lake Springfield. It's open to anyone who is 12 years or older in good physical condition, with basic swimming skills and no excessive fear of being in or around water.
American Canoe Association certified instructors and volunteer assistant/safety persons are teaching this clinic.
They will be donating their time, vehicles, and effort.
The size of the clinic is limited and will be filled first come, first serve.
If you do not have your own equipment, contact Marty Zerr at secretary@ozarkmtnpaddlers.org or 417.818.8981
-OR- Jason Haskin at president@ozarkmtnpaddlers.org or 417.379.2220 for more info.
Bring your own lunch and drinks for the day. No pets. No alcoholic beverages on the river.
CLICK HERE to download your application!  You will need to print this, fill it out, and send it back to the address stated on the instructions.
Upon acceptance into the clinic, you will receive a letter with directions and additional information. If you have any questions, please contact Marty Zerr at 417-818-8981 or email secretary@ozarkmtnpaddlers.org.
{ 0 comments }