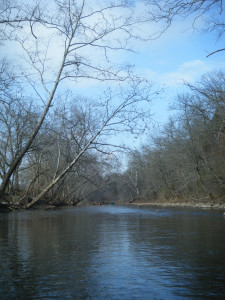 Come join us for our December Monthly Float on Dec. 12th (SATURDAY) on Flat Creek (Hwy EE to Flat Creek Rd Bridge). CLICK HERE to see Putin & Takeout Map. 
Enjoy the crystal clear waters, beautiful scenery, occasional visits from wildlife (eagles for sure), quick and easy shuttle, and short commute from the Springfield area.
If you are interested in joining us, on Dec. 12th (SATURDAY) we will meet at the Braums in Aurora by 10:00 a.m. to head to the putin (EE bridge -aka- Lower Flat Creek Access) by 10:30-ish a.m.  We will drop all of our gear off at the putin (Lower Flat Creek Access at Hwy EE bridge), load up in as many cars as we can, head to the take out (Flat Creek Rd bridge), leave as many cars as possible at the takeout, designate a driver(s), head back to the putin in that driver's vehicle(s), and proceed to float.  It's just that easy!
Please contact David Jackson at 417.342.3906 for more info.
{ 0 comments }